Well it's been five long days and still no sighn of papa Pritty, so the chances of his returning back home are getting very unlikely, despite all of our efforts to lure him back. I tried everything I could think of , driving around the nieghborhood looking hi and low, even got my nieghbors to help in the search.
Put up flyers on the community bullitin board, this is a small town so it was pretty easy to get the word out. I sat his mate, (mama Pritty), outside in thier cage to call for him, and I sat one of thier other cages out , with the doors open and food and water waiting inside. I Also put some of his food out on the roof and other high places that he may spot from above... but still no sight of the lil' guy.
The last 3 days of rain didn't help in the search much, but the trees and other plants drank it all up and used it to produce plentiful, green, foilages which will provide better food and shelter for him. I went over to the palm tree that has the nesting monk parakeets, thinking that even though the monks are quiet a bit larger , they are most simular to his breed, so maybe he decided to hang out with them awhile ... but there was no sighn of him there either.
However, I did notice that there was a pair of tiny chicadees sharing one of the bottom nesting holes with them. And to see the big monks sharing thier tree and enormous nest with those tiny birds, makes me think they perhaps may tolerate papa pritty if he did drop by. They are very loud and sound simular to him so I figure this will eventually draw him to them. Who knows maybe one of these days I will look up in the sky and see my lil blue birdy flying solo with a flock of them green monk parakeets.

All I want is for him to be safe healthy and happy. He has always wanted to be free every since the first day I got them so maybe it was meant to be, and maybe he is happly hopping through the trees and tasting every new plant he comes across , just having a great ol' time . At least that is the way I like to picture him now.
Mama pritty is missing her mate and lonely so I may eventualy try to find her another companian, but it is much too soon for that now. But I did find a link that may help when that time comes...found some helpful links about this if you want to check them out.
suite 101- finding a mate for a lonely pet lovebird
http://pet-birds.suite101.com/article.cfm/finding_a_mate_for_a_lonely_pet_lovebird

mama and papa right after we first got them...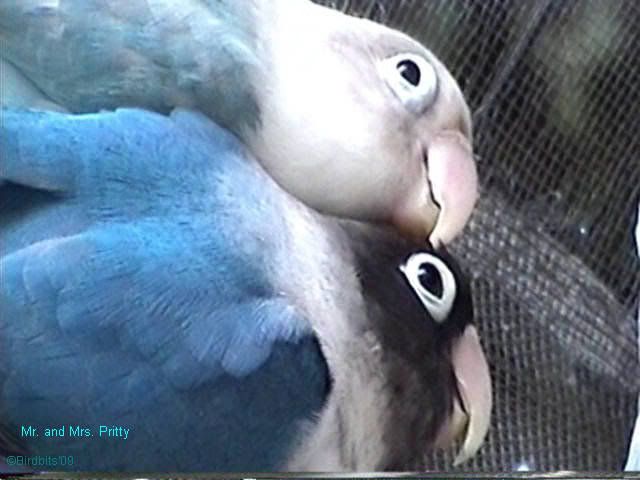 mama and papa pritty
papa
I want to thankyou all for your support and encouraging words, I never could have gotten through this with out ya'll


Safe and Happy Pet and Critter Journies to you all!

ßïrÐß
Çhêrï§hïñg WïlÐlï£ê åñÐ ñ况rê êvêr¥ Ðå¥