Yep this time of year is always full of new critter activity. Some of the birds just drop in for a short visit to grab some food, drinks and a short rest before continuing along the migrational journies, like the cedar waxwings I showed you in my previos post. The winters here are very mild, almost like summer and the tropical climate provides lots of natural food resources so some birds hang out here all through the winter.The local birds that are here year round even change thier habits and start comming in small flocks instead of individually. With all the new and old bird visitors now the habitat is like a crouded restuarant , and very enteraining to watch. So I thought I would share a few more photos ...

yellow rumped warblers
are still hoppin' all around!

yellow warbler
two pairs of them buzz through the branch tips cleaning out all the lil' bugs and spiders for me

goldfinch
I love hearing their dainty songs echo all around . The flock is huge this year and I say " the more, the merrier!"

titmouse
these lil guys are great big comedians, hanging upside down and doing flips along the branches. And the way they hammer through the seed nuts with thier beaks to get to the heart of the nuts is pretty amazing

wren
loves to hop along the garden boundries, plucking goodies out from under all the stone and wooden borders

woodpecker
They gather up mouthfulls of seeds and nuts and stash them in every lil' nook and cranny they can find. They have so many hiding places I don't know how they keep up with them all !

robin and woodpecker
A few robins have started trickeling through, this one shares a drink with the woodpecker

greenjay
These guys drop in two to three times a day and they are the loudest and most colorful birds on the scene right now. They make repeated trips down to the feeders, grabbing large mouthfulls of seed and nuts then fly back up into the tree to eat and tuck away any extras for a later snack.

female cardinal
Although the cardinals are here year round, I never tire of their beauty

Squirel
Squirells are just so fun to watch, like a little child - they must explore everything!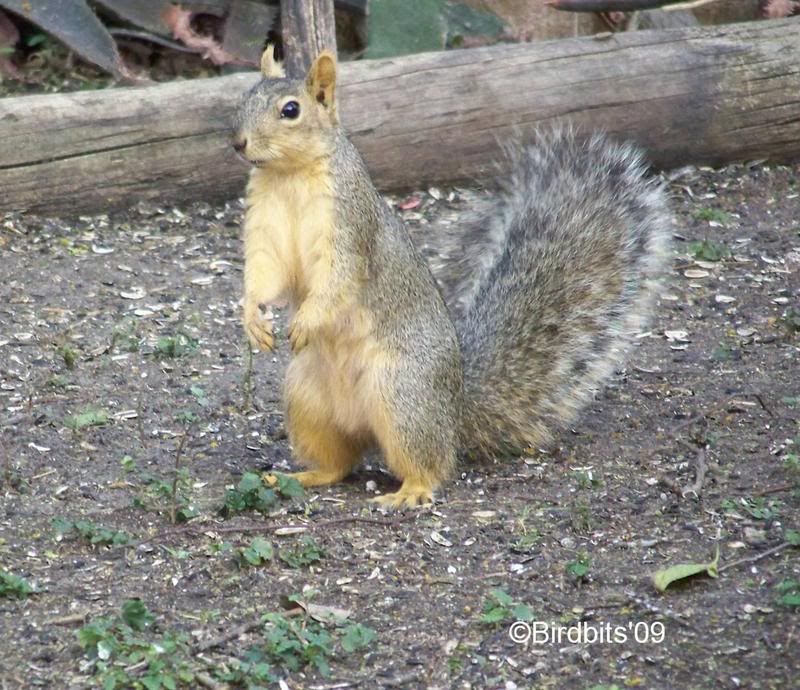 squirel
If I forget to leave them out a peanut treat they will come right up to the back door to remind me ...

lizzards
there are alot of these guys hiding amongst the old vinages and shrubberies. These are "anos" and they have the ability to adapt thier skin colorations to their surroundings, so they can be brown like these one minute... and bright green the next. I think these two are blending in with thier surroundings pretty well...

It's a beautiful day here , the air is full of happy bird song ... I think they are asking me to come out and join them so you all know where I will be...



Happy nature and wildlife trails to you all!

ßïrÐß
Çhêrï§hïñg WïlÐlï£ê åñÐ ñ况rê êvêr¥ Ðå¥